Welcome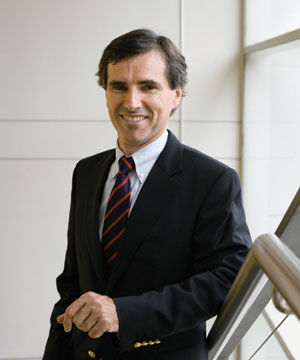 Sydney Medical School is dedicated to teaching medical, research, public health and science students, preparing you for useful and rewarding careers in science and health care. Across all our education programs, our aim is to develop caring, clear thinking, clinically outstanding, research capable and globally engaged graduates who have the capabilities to become leaders in medicine, public health and research.

Our education mission is inextricably linked to both of our other key areas of focus: to our extensive research portfolio and the delivery of health care in the Australian community, particularly in New South Wales. Since the medicine of tomorrow will be a direct outcome of the research we do today, a medical school without a strong research base is lacking a fundamental component of good medical education. The medicine of both today and tomorrow is also enhanced when leading clinicians, academics and researchers, working together, translate the latest research into improvements in diagnosis, preventive programs or treatments, which are directly incorporated into health care.

The speed of change in medicine and health care is rapid. Every day, new discoveries are made which help us to better prevent, diagnose and treat disease. No one has a crystal ball, all that we can really be certain of is that change will continue to happen – new areas of research will continue to emerge and new technologies developed.

That is why, more than at any time in the past, lifelong learning is essential for all health professionals. Regardless of your course or research program, the aim for all our graduates is that they are critical thinkers, well trained with skills to absorb and evaluate new evidence as it becomes available. In a increasingly globalised world, we aim for our graduates to have the skills to practise and research in the international arena.
Our medical curriculum provides students with a solid foundation in basic medical science, and outstanding clinical placements in hospitals and the community. We offer an extensive range of postgraduate coursework programs, covering medicine and public health, for both medical and non-medical graduates. In each of these programs, students will be able to build on their knowledge, expand career options and develop the skills which will enable them to provide quality health care.

Graduate certificates, graduate diplomas and master's degrees can all be obtained through coursework. Our coursework programs are taught by medical scientists, clinicians and public health professionals, many of whom are leading researchers in their fields.

Our research ranks highly across every competitive measure. Each year, researchers at Sydney Medical School and in affiliated institutes fare well in national and international competitive grants, reflecting the quality and impact of their work. Our research covers a wide spectrum, from basic sciences to public health measures to control epidemics. Following a recent major review, it is organised around six major thematic areas, all of which reflect major global health challenges. These themes are cancer; obesity, diabetes and cardiovascular disease; infection and immunological conditions; neurosciences and mental health; chronic disease and ageing; and reproductive, maternal and child health.

Sydney Medical School provides a stimulating environment for postgraduate research with over 40 teaching hospitals, research centres and institutes conducting high quality education and research. With more than 2000 students enrolled in postgraduate courses or research, Sydney Medical School is the only faculty in the University to have a graduation ceremony solely for postgraduate students.
Professor Bruce Robinson
Dean